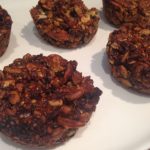 Chocolate Banana Muffins
2014-10-02 16:44:35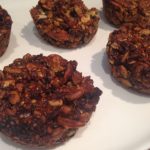 Serves 12
A grain-free, gluten-free, almost vegan muffin. Use for breakfast or as a snack!
Ingredients
1 cup almonds
1/3 cup pecans
1/3 cup walnuts
1/3 cup chia seed
1/3 cup cashews
1/3 cup sunflower seeds
1/3 cup pumpkin seeds
1/3 cup coconut flakes, unsweetened
1/3 cup cacao nibs
1/2 cup coconut oil
1 ripe mashed banana
2 tbsp maple syrup
2 egg whites
1 tsp vanilla extract
1 tsp cinnamon
1 tsp turmeric
1/2 tsp sea salt
Instructions
Preheat oven to 350 F
Put all the dry ingredients in a food processor and pulse until desired consistency is achieved. If you like more crunch, process a little less, if you like things more smooth process a little more.
Add wet ingredients to dry ingredients in a bowl and toss well
Add approximately 1/4 cup mixture to each muffin well in a pan
Cook for 35-40 minutes
Nutrition breakdown
362 calories
32g fat
16g carbs
8g protein
7g fibre
111g sodium
Healthy Eating Active Living™ http://www.heal-nutrition.com/
If you like this recipe, share it. Want more like it? Sign up for a HEAL™ program today to gain access to all our recipes!