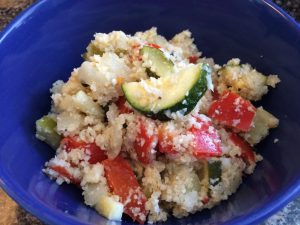 Cauliflower Couscous Stirfry
2016-09-07 11:51:29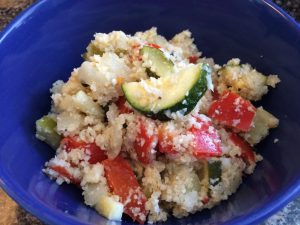 Serves 4
A lower carb, gluten-free, high nutrient side dish to accompany any meal.
Ingredients
1/2 head cauliflower
2 tbsp olive oil
1 tbsp coconut oil
1 tbsp ground cumin & coriander seed
1 tbsp ground black pepper
1 tsp chili flakes
1/2 tsp sea salt
1/2 large red bell pepper, coarse chopped
1/2 large spanish onion, coarse chopped
1 zucchini, coarse chopped
2 sticks celery, coarse chopped
Instructions
In pan warm oil and toast ground seeds for 1-2 minutes
In food processor add cauliflower pieces and pulse until they are large granules
Add cauliflower to pan with toasted coriander, cumin and black pepper.
Allow to cook for 2-3 minutes before
Add in coarsely chopped veggies and turn down to medium low
Season with chili pepper flakes and sea salt
Cook for 15-20 minutes, stirring occassionally
Notes
Substitute your own veggies for a unique taste.
Healthy Eating Active Living™ http://www.heal-nutrition.com/