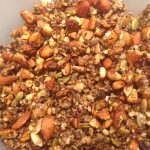 Chocolate Banana Granola
2014-10-02 16:59:51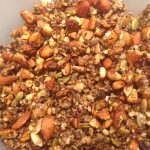 A healthy alternative to store bough sugar laden processed granola. Quick and easy, you'll love it!
Ingredients
1 cup almonds
1/3 cup pecans
1/3 cup walnuts
1/3 cup chia seed
1/3 cup cashews
1/3 cup sunflower seeds
1/3 cup pumpkin seeds
1/3 cup coconut flakes, unsweetened
1/3 cup cacao nibs
1 mashed banana
1/2 cup coconut oil
2 tbsp maple syrup
2 egg whites
1 tsp vanilla extract
1 tsp cinnamon
1 tsp turmeric
1 tsp ginger powder
1/2 tsp sea salt
Instructions
Preheat oven to 350 F
Put all the dry ingredients in a food processor and pulse until desired consistency is achieved. If you like more crunch, process a little less, if you like things more smooth process a little more.
Add wet ingredients to dry ingredients in a bowl and toss well
Spread a thin layer on baking sheet
Cook for 35-40 minutes, tossing occasionally
Let cool before storing in an air tight container such as a mason jar
Notes
Each 1/3 cup serving
362 calories
32g fat
16g carbs
8g protein
7g fibre
111g sodium
Healthy Eating Active Living™ http://www.heal-nutrition.com/
Like this recipe? Share it! Want more like this? Sign up for the HEAL™ newsletter and gain access to over 100 healthy recipes!