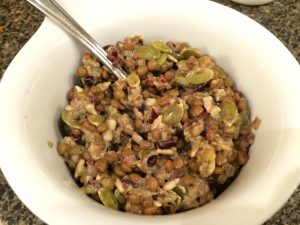 Porridge Reinvented
2015-11-23 14:21:28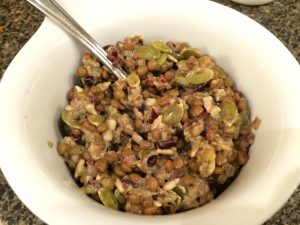 Serves 4
A nice protein rich spin on an old oatmeal classic!
Ingredients
1 cup lentils (green or red or brown)
1/4 cup sunflower seeds
1/4 cup pumpkin seeds
2 cups water
2 tbsp coconut oil
1/4 cup coconut milk
1/4 cup cacao nibs
1 tsp vanilla extra
1 tsp cinnamon
1/2 tsp turmeric
1/4 tsp sea salt
1/4-1/2 cup almond milk
1 cup fresh berries or other fruit
Instructions
Boil lentils in 2 cups of water for 15-20 minutes until cooked and soft. If any water remain drain it out. This can be done the night before too!
Add 2 tbsp coconut oil and stir
Add in coconut milk and stir
Add seeds, cacao nibs, and spices and stir in.
Portion out 1 cup of mixture and add berries and top with almond milk.
Healthy Eating Active Living™ http://www.heal-nutrition.com/