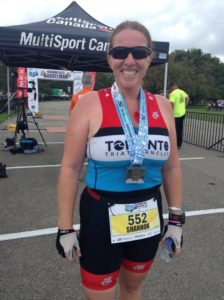 I approached Tara in September, initially for nutrition advice and guidance. I was looking to lose a few pounds, gain energy and avoid cravings while still maintaining my training during the winter months. What I loved most about working with Tara is how she worked with my existing routines and diet and developed a program that offered significant improvements with small changes. As a result, the program was very was easy to adopt such that I have been able to maintain it with little effort now 6 months later. Not only was I successful in losing the weight I needed, but I was able to maintain an improved diet and improve routine for eating and drinking throughout the day keeping my energy steady and no longer suffering from feeling hungry between meals.
After achieving success with the nutrition services, I asked Tara to help me add a strength training plan to my training schedule. Once again, Tara worked with my existing resources to develop a strength training plan which was easy to adopt and fit within my already busy schedule. I'm a couple of months into the plan now and seeing improvements.
Thanks Tara – I love the way you lend your expertise to provide solutions which are simple and easy to incorporate into existing routines. This ensures the greatest chance of long term improvement and success.
Do you have your own success story? Want to share it? Email us!