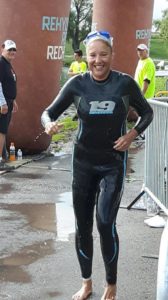 Jocelyn came to me a couple months before her first half distance triathlon on the recommendation from a friend. Jocelyn wanted to fully understand the nutritional implications and challenges for a race of this duration. Read Jocelyn's story below.
"I was recommend to Tara to help fulfill my goal of doing my first half ironman distance race at 57. I got into triathlons at 53 with a tri-tri and I was hooked. I had no idea what nutrition I needed to get me to the finish line at the Barrelman standing up!
Tara looked at my food intake and completely re-vamped it along with giving me a training plan that would get me up to speed. We didn't have much time, but with a detailed nutrition plan and the updated workout schedule I felt confident going into the race. I completed the swim and bike with ease and followed my nutrition plan exactly as planed. The run was very hot, humid and while still following the plan, I took Tara's advise and had to power walk most of the second loop.
I did finish standing up and with tears of joy streaming down my face. Without Tara's nutrition plan and workout schedule, I'm sure the end result wouldn't have been the same! " Jocelyn Slatt, Toronto
Congratulations Jocelyn! Want to share your own success story? Email us today!