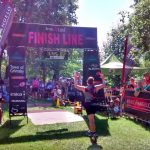 I am so excited to share this success story! Lori took on a challenge to make some big changes in her life by eating better and training. With some determination and expert guidance from Tara at HEAL™ she lost 20lbs and posted great results at her goal Triathlon this summer! Congrats Lori and keep up the great work!
"I had an absolutely fabulous summer, I surpassed all my health and fitness goals and I feel better than I have in many years. Although I actually made everything happen, I really could not and would not have done it without Tara's help.
Several months ago I was tired… tired of being overweight, tired of not living the life I really wanted to live, tired of all my excuses. I knew I needed to make some major changes in my life, primarily I needed to eat better and be more active.
But who doesn't know that?
I knew what I needed to do, but I just couldn't get it going on my own. Luckily, I found Tara. Tara made it simple… she was my nutritionist, my trainer and my coach. Tara helped me put it all together. By combining healthy eating, personal training sessions and a coaching plan for the rest of the week, everything started to fall into place.
In particular, I really appreciated Tara for:
– Her deep knowledge of nutrition and the impact on your body… which is key when you are trying to lose weight AND improve performance;
– Her ability to really push me in a positive but firm way… which I really needed, she knew when I could do more, even when I didn't believe it; and
– Being such a positive and inspiring role model.
Over the summer I lost 20 lbs, and far and exceeded my time goals on the Irongirl Canada triathlon, my goal race. Thanks to me of course… and a big thanks to Tara!"
Lori H, Toronto
Do you want have a success story of your own? Contact Tara today and turn your goals into actions!