How Does Your Diet Measure Up?
In order to achieve top performance at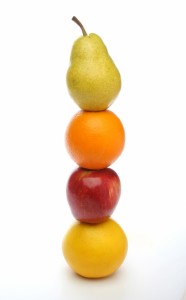 hletes require adequate energy, i.e. calories and various nutrients – carbohydrates, proteins, fats, vitamins, and minerals – in the correct balance.
5 components of good nutrition include:
Adequacy– a diet which contains enough of the essential nutrients
Balance – a diet which contains a good proportion of nutrients. No overemphasis of one food group or another.
Calorie Control – A diet which contains the correct amount of calories to maintain ideal body weight and to support training output.
Moderation – A diet which enables you to eat reasonable size portions.
Variety – a diet which contains different types of food to prevent boredom and to provide a full spectrum of nutrients
Want to know if your diet achieves top marks? Book an appointment with Tara today to start achieving your athletic and health goals.