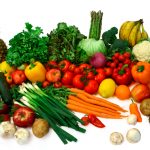 Confused about organic vs non organic produce?
The 8th edition of Environmental Working Group's (EWG) Shopper's Guide to Pesticides in Produce™ was released recently with updated information on 45 popular fruits and vegetables and their total pesticide loads. EWG highlighted the worst offenders with its new Dirty Dozen Plus list and recognized the cleanest conventional produce with its list of the Clean Fifteen.
Dirty Dozen Plus (Buy these fruits and veggies Organic!)
apples
celery
sweet bell peppers
peaches
strawberries
nectarines, imported
grapes
spinach
lettuce
cucumbers
blueberries, domestic
potatoes
Plus
green beans+
kale/collard greens+
Clean Fifteen (these don't need to be organic)
onions
sweet corn*
pineapples
avocado
cabbage
sweet peas
asparagus
mango
eggplant
kiwi
cantaloupe, domestic
sweet potatoes
grapefruit
watermelon
mushrooms
+may contain highly toxic organophosphate pesticide residues
*Commodity crop corn used for animal feed and biofuels is almost all produced with genetically modified (GMO) seeds, as is some sweet corn sold for human consumption. Since GMO sweet corn is not labeled as such in U.S. stores, EWG advises those who have concerns about GMOs to buy organic sweet corn.
Learn more at www.ewg.org/foodnews/summary/.