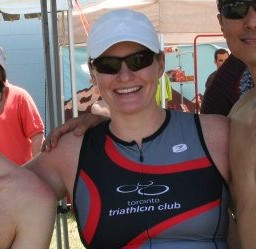 I first met Tara at a Toronto Triathlon Club training camp. It was my 'baptism by fire' into the world of triathlon, and looking back that weekend really established triathlon as my primary passion in life. Sport and exercise have always played prominently in my life, but triathlon was something completely new to me, and I wasn't prepared for the changes I would need to make in both my training routine as well as my nutrition. Despite the fact that I was training a lot, I was training differently, and my body was responding differently. In fact, after 3 solid months of training, I put on 10 lbs! Now, this isn't what I'd signed up for! Granted, I was re-gaining muscles long gone by re-establishing myself into the world of swimming, but I wasn't losing body fat, and found this discouraging given I felt stronger and fitter than I had in years.
Tara was able to work with me, and my hectic lifestyle with lots of travel for work, to design a nutritional plan that worked with my life, not against it. With some small tweaks to my eating, I was immediately feeling better, and had more energy throughout the day and for workouts. She also helped me immensely with my training and race nutrition. As someone who wasn't used to endurance sports, having to eat during a race was a huge shift for me. Again, she made a simple race plan for me to ensure my body would have the energy it needed to complete a race without feeling like I'd been hit by a truck (at least on account of poor nutrition!).
Once the triathlon season ended, I started training with Tara as part of her boot-camp sessions. Once again, Tara challenged me in a way that I wasn't used to, and I started seeing immediate results. On top of that, it was fun!
I've now moved to the U.S. for work, but keep in touch with Tara and plan to continue doing so…her approach is one that is flexible and takes the individuals needs into account. She's an inspiration to those of us who are new in the sport, and as I train for my first IM 70.3 this year, I know Tara will continue to play a prominent role in my training, and my circle of triathlon friends. Krista Cunningham, Toronto