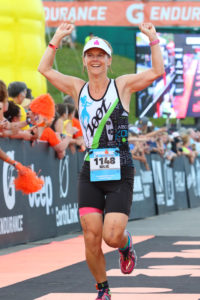 Julie came to me after a bad experience in a half Ironman to fix some nutrition issues so she could accomplish her full Ironman goal! And She did it in a fantastic time! Congratulations Julie!
"After signing up for my first full Ironman, I knew I needed to get my nutrition in gear after a scary experience with heat stroke at a 70.3 race the previous year. With the increased training, I was always feeling hungry and not necessarily filling that hunger with the right foods!
At our first meeting, Tara reviewed my food logs and worked with me to improve the quality and quantity of what I was eating, which included adding lots of vegetables and healthy fats. As my workout scheduled increased, we went through how many grams of carbs, and how much fluid I should be taking in per hour – something I had not kept track of or really thought about previously. I could immediately tell the difference on longer workouts when I didn't take in the correct amount of nutrition, so this was great practice for the big day in July.
A couple of weeks before the race, we went through a very detailed race day fueling plan as well as a plan on what to eat in the days leading up to the race. As the forecast in Lake Placid was to be another hot racing day, I felt confident with my fueling plan to know that if I stuck with the plan as best as I could, I would make it to the finish line. With all the things to be nervous about on race day, my nutrition plan was solid and it was one less thing to worry about thanks to Tara!
Crossing that finish line and hearing them say YOU ARE AN IRONMAN is a moment I will never forget. Thanks Tara for helping me get to that finish line!"
Do you have a success story of your own to share? Email me! You could be our next featured Success Story!