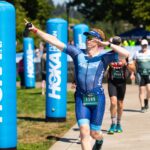 Success Story: Scott Holmquist
August 18, 2023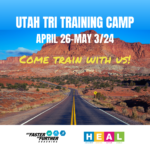 St George Training Camp 2024
November 6, 2023
Steph was referred to me by her Massage Therapist, Adam Johnston from Perform Well to help her with her nutrition for her upcoming marathon training block.  After an initial consultation, Steph decided that in addition to her nutrition she had some training questions but was already following a ready made training plan that she was enjoying.  So we decided to work in a series of monthly consultation check-ins to address both nutrition and training concerns throughout her training cycle. During out calls we were able to address tweaks to the training plan to customize it for Steph and make adjustments based on her availability and how her fitness was improving!  Steph successfully ran the Chicago marathon breaking her 4hr goal by 4 minutes.  Congrats Steph!
Working with Tara was a total game-changer when it came to achieving my sub-4 hour marathon goal. She covered everything, from nutrition tips to marathon training, including strength and mobility exercises, and race-day strategies. These were all areas I really wanted to focus on, and Tara's coaching was the whole package. What I loved most was that I was getting advice from an active female athlete who's the same age as me. She's not only super professional but also genuinely engaged and thorough in her guidance. I'm definitely looking forward to teaming up with Tara again for my next running goal
~Steph Anselm, Toronto
Want to have your own Success Story? HEAL is here to help you reach your goals! Want to get started? Contact us today!