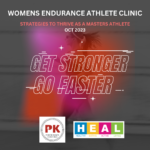 Womens Endurance Athlete Clinic
July 14, 2023
Scott was matched with me through TrainingPeaks to help him train for his first 70.3 in Salem, Oregon.  After a discovery session Scott explained that he was interested in not only training for this race, but also learning more about coaching and training principles.  With a budget in mind, I worked with Scott in a consultative approach where Scott would plan his month of training and then we would discuss any changes, modification, and suggestions that I had in a monthly call.  During this call we also discussed a variety of training topics, coaching theory and application as well as any  nutrition questions that Scott had.  Over 4 months Scott developed the endurance he needed to complete the event and gained valuable insight into tailoring training to suit his unique needs. Congrats Scott!
Working with Tara has been fantastic! We matched through a coaching app and she was willing to work with me on a very specific goal: to compete in my first 70.3 and learn about what it takes to coach myself. In order to help me within my budget, we landed on conducting hour-long consultations on a monthly basis where I would come with a training plan for myself and a list of questions. Her and I would spend time going through the plan and she would go beyond my expectations in answering my questions. I was able to finish the race strong and with a ton of new knowledge to help me prepare for the next one! Thanks, Tara, and I am excited to work with you again soon!.  
~Scott Holmquist, Montana
Want to have your own Success Story? HEAL is here to help you reach your goals! Want to get started? Contact us today!