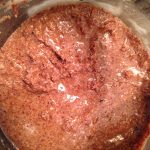 Better Nut Butter
2013-11-25 15:49:55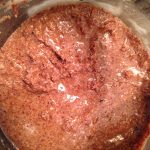 Like almond butter but want better? This nut butter is Better! With Omega-3 rich flax seed, pumpkin seeds, whey protein powder and raw cacao, this nut butter tastes great and satisfies!
1.5 cups raw almonds
1/2 cup raw pumpkin seeds
1/4 cup flax seeds
1 scoop protein powder
1/4 cup raw cacao nibs
1 tbsp olive oil
In food processor grind the flax seeds first. Remove and set aside.
In food processor grind almonds and pumpkin seeds until a thick paste is formed. This will likely take about 4-5 minutes depending on the speed of your processor.
Add raw cacao nibs next and process into the mixture until well blended.
Add the olive oil, whey protein powder (or other protein powder), and ground flax back into the mixture and blend for 10-15s.
Remove, store in the fridge and use as desired.
Flax and whey are heat sensitive so don't spend too long blending/processing.
Keep product in the refrigerator for maximum freshness
Healthy Eating Active Living™ http://www.heal-nutrition.com/