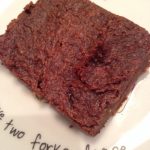 Flourless Chocolate Brownies
2013-12-04 19:05:43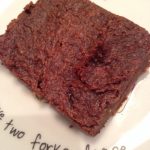 Almost too good to be true!
1.5 cups raw almonds
2 tbsp sunflower seeds
2 tbsp pumpkin seeds
2 tbsp flax seeds
1/4 cup coconut flakes (organic)
1/3 cup coconut oil
1/4 cup honey or maple syrup
1/2 cup plain Greek yogurt or 2 eggs
1 tsp vanilla
1/2 cup raw cacao powder
2 tbsp raw cacao nibs
1 tsp sea salt
In a food processor combine almonds, sunflower seeds, pumpkin seeds and cacao nibs.
Process until a fine "meal" is formed.
Add in melted coconut oil, coconut flakes, cacao powder, yogurt or eggs, vanilla, honey and salt. Process until well combined.
Add in flax seeds and process until well combined
Oil a small loaf pan with coconut oil and press mixture into pan.
Bake at 350 F for 20 minutes
Allow to cool and enjoy
Yes this is high fat, but the benefits of fat is that you eat less because you feel satisfied! Plus nuts and seeds, as well as coconut oil and cacao are all healthy sources of vegetable fat! So treat yourself!
Healthy Eating Active Living™ http://www.heal-nutrition.com/