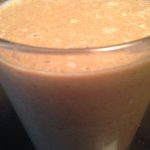 Hot Chocolate Banana Smoothie
2013-12-11 14:26:54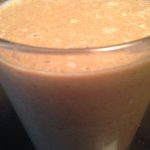 I wanted a warm drink in the cold morning, so I came up with a warm smoothie.
2 cups unsweetened almond milk (warmed up)
2 tbsp raw cacao powder
1 banana
1 scoop Vega Chocolate Protein powder, or Whey Protein Isolate
1 tbsp chlorella
1/2 avocado or 1 tbsp coconut oil
1 tbsp ground flax or chia seed
1 shot espresso (optional)
Layer in blender and puree until smooth. If you like you smoothies a little thicker, use less almond milk.
Healthy Eating Active Living™ http://www.heal-nutrition.com/