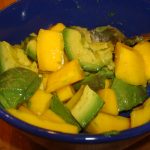 Quick and easy this salad is a great reminder of summer flavour with a simple and refreshing texture.  Use as a salad or a dessert.
Ingredients
1 ripe avocado
1 ripe mango
1 lime, juiced
2 tbsp of fresh mint, chopped
1/4 tsp sea salt
1/4 tsp black pepper
Peel and chop mango and avocado into 1 inch cubes or bite sized pieces. Combine remainder of ingredients together in bowl.
Makes 1-2 servings.