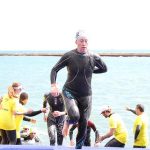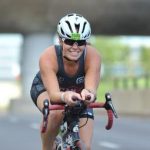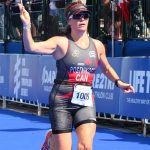 On September 19th I completed my 3rd ITU AG Standard (Olympic) Distance WC and that is something I am proud of!
However was not my day- and I seemed to have a failure to execute. I developed a head cold the day before and slept poorly. When woke up and couldn't breathe and had some gut issues that felt different than pre-race jitters; likely more to do with whatever was infecting me.
Given the forecast we got really lucky with the weather- to have dry pavement, some wind and not too much heat, but the 42km/hr gusts did not seem to be too bad.
Swim was cold like I like it (16 C I think) but rough/choppy and we had a current. We really got bounced around from the wake off the pier wall towards the end and I almost got sucked under the ramp to get out of the water. As I got yanked out of the water by a volunteer, I my calf seized but the pain subsided as I ran the 400m to transition. I also lost my goggles along the way.
Transition was a mud pit so I did the sensible option and put my shoes on at the mount line to avoid filling my cleats with dirt.

I clawed back many positions on the bike from my slow swim and felt pretty good despite seeing some athletes on the ground due to accidents. Was pretty cool to to ride the under ground in Chicago for part of the race, but I have no GPS data because of that.
Very technical bike course which I loved, despite the bad smells of urine and exhaust and low light. I believe the bike was short, about 38 and a bit kilometers, but even with that I posted a stellar split of 1:05 (35km/hr) thanks in part to LKs aero-helmet and Scott's wheels.
Transition to run was pretty quick given the over 250 m we had to run to get back to our bikes. Kept it conservative for the first 1km, but when I tried to accelerate I couldn't push through the tightness in my chest / inability to breathe.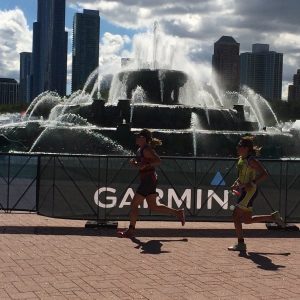 We had 3.5 laps to run passing the finish line 3 times before we were able to cross. I made sure to count those out each time so I wouldn't miss a lap and finish short as it turns out many did. I didn't find it that hot despite it being 1pm, but with a blister budding on my foot and the cold I just couldn't deliver the run I wanted to.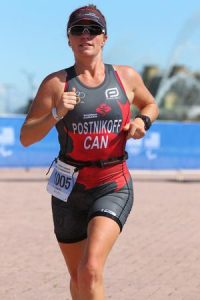 The run was long (I clocked 10.5, but others said 10.7k) so my 52:30 translates to 4:59 min/km which is 30s per k slower than the goal.
I am happy to have finished and fought as good as I could. 77/107 in AG. Total time 2:34 10th/16 Canadians.

Thanks to all those in Chicago, especially Nate and back home cheering me on, it really makes a difference!
Tri Season is done… On to my fall running goals: Road 2 Hope 1/2 Marathon on November 1.