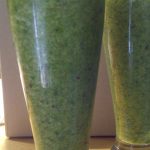 It's been a green smoothie kind of week!  Post holiday feasting and festivities the feeling of excess was definitively upon us, so I thought it was time to do a little internal cleansing first thing in the morning.
The first few days were simple pre-breakfast energizers consisting of lime juice and chlorella.  As the week progressed we moved into full blown breakfast smoothies packed full of protein and antioxidants!
The result; more energy, less bloating and a general feeling of clean!  Happy New Year!
Pre-Breakfast Energizer (single serving)
2 limes, fresh squeezed
1 cup water
1 heaping tbsp Chlorella
-Shake together until mixed
Breakfast "kale" smoothie (double serving)

-you'll want a blender for this one!
1 cup ice
1 cup almond milk
1 cup water
1/2 cucumber
4 cups kale (de-stemed)
1 avocado
2 limes juiced
2 tbsp chlorella
2 tbsp chia seeds
-puree all together then mix in at the end:
1 scoop Vega One (natural)
1 scoop whey protein Isolate (plain)