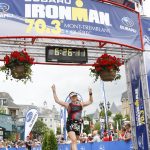 The lead up to London World Championship 2013…
It was my second trip to Worlds and this time I felt like I really earned it because I finally won my age group (TTF 2012), where as in 2009 when I qualified for Budapest, I was second in my AG by 20 minutes. I had been really hoping to go into this race is amazing shape, but the year just wasn't shaping up that way.
After a solid winter of running, I found myself injured on and off again since February, though I just didn't know it at first. I had such a mild heel pain that it almost wasn't worth mentioning (to my therapist's) because there is so much else to work on. It wasn't until the Chilly Half in March that my knee started acting up and forced me to stop running until the end of April. On one of my first runs back I sprained my ankle (worse than I thought) and had to take another 4 weeks off.
I raced the Woodstock Sprint Tri at the end of May and the body felt relatively good. Having all the time off running was forcing me to work on my weakness, biking, and I was feeling very strong on the bike. Just 3 days after this race I experienced very intense heel/Achilles pain and feared a stress-fracture; less the one month before IM MT 70.3. I stopped running again, and a bone scan relieved a bone spur in in my left heel. The lack of stress fracture gave me the confidence to start and finish IM MT 70.3 as I knew I wouldn't cause more damage and it would just hurt. I pushed through the run portion of that course like I've never pushed through a run before and ended up with a huge personal best.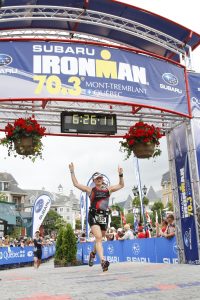 With the help of a few specialists including Dr Jaclyn Kissel I decided to not run again until July 21rd for the TTF race. That race was good as it was the first time I didn't have heel pain, but I ended up with some pretty bad blisters on both arches and had to cease running again for 3 more weeks to allow them to heal properly. But I felt that while I had a lot of aerobic endurance I didn't have the running strength to perform well.
So I had 5-6 weeks before ITU worlds to start running again. I didn't want to over do it, but I knew I had to do some intensity workouts to get my running kick back. I ran 3-4 times before the Toronto Island Tri (Aug 25, 3 weeks before Worlds where I won may age group that day, by holding off my opponent for the entire run. I felt strong on that run and that boosted my confidence that I could get through the run at worlds in decent shape (i/e under 50 minutes for 10k, which isn't exactly competitive, but it would satisfy my personal goals). And plus with an strong bike time I should be able to make up some time.
London 2013
It was awesome to race on the 2012 Olympic course. You have to try to channel that energy when you are out there.
I decided to rent a bike for this trip because the hassle of traveling with a bike case aboard is huge. Adding this unknown to the scenario was a bit stressful as you never know how it's going to workout. We arrived in London on the 11th, 4 days before the race. I picked up the rental and it was ok. The carbon Trek Madone 3.5 felt heavier than my Cervelo and the shifting was sluggish despite being Ultegra components, but with a few tweaks (flipping the seat post around and adding my aerobars and race wheels) I figured it was good enough. My position was a bit stretched out and this caused some pain in my right hip during the race, but it worked. But II've always said you need a strong engine, not a fast bike, so I tried to hold on to that fact during the race.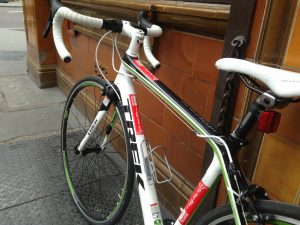 London was cold and wet while we were there and after watching the Sprint race on Friday in the rain I was hoping for dry-ish conditions. My race started at 10:20 (the very last wave), which was later changed to 10:30 due to a traffic incident before the start of the race. The swim was shortened from 1500m to 750m because the air temp (7 or 8 C) and the water temp (under 16C) meant that 1500m was too long. I wasn't upset about this much though I would have been nice to race an official distance. I did my final transition check at 6am and then went back to the hotel to wait for my race time. Since there was 4.5 hours to kill I wasn't going to sit at the race site in the cold while I could eat breakfast number 2 and lie in bed waiting. Getting up at 5am and racing at 10:30am means you need to structure your nutrition a little different because what you first eat isn't going to be providing much energy 6 hours later! I actually was able to watch all the swim starts online from the hotel room which was pretty cool, yet disorienting, because you know you are to be racing to. At 9:30 headed back to Hyde Park to get ready for the swim.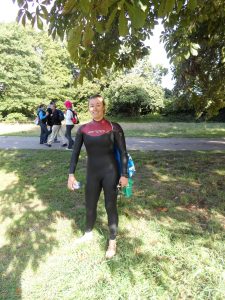 There is no swim warm up in ITU, or at least in the 2 World Championship races I've now done. It's basically jump in an go. As our wave approached the pontoon we were able to watch others finish the race up close. Pretty cool, but again can't help think about the fact that these guys are done and we have yet to start. Focus back to your own race you have to, stay present and don't worry about others. They said the water was under 16C but by 10am and 2000 racers later I think it had warmed up a bit. It wasn't warm but it wasn't ice shattering either. The swim start was rough 102 people going at once all lined up makes for a bumpy start. I was somewhere in the middle of the dock, but had a straight line to the first bouy 250m out. I think I handled my turns well and exited the water at 14:01 (1:52 min/100). I was satisfied with this result, but not overwhelmed. I didn't train the swim as much as I "should have/ could have" this year.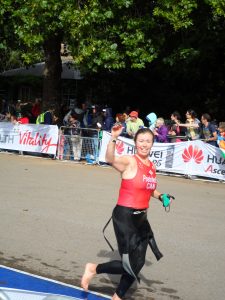 Off to T1.
It was about a 400m run out of the water to transition and that felt long. In local races you see some people walking, not so here, in fact in my jogging up to transition, I was passed by what felt 10 people. Transition was a bit of a mud pit and running in bare feet and cleats was tiring. I got out of transition quickly once I got to my bike and I was on my way. 3:41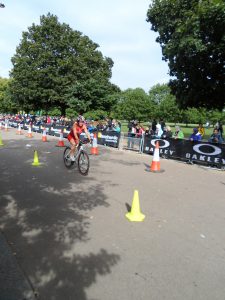 Bike- 2 loops.
The course was beautiful. Flat, but technical and took us through most of London. We had various obstacles like hair pin turns, wood ramps, cobble stone humps, different road surfaces, tunnels and some pretty fierce wind to contend with. The course was great for spectators because I saw Nate, Greg and Lori about 4 times when I came back into the park. I felt strong on the bike and passed some people that got out of the water faster than me. I think I only got passed by a couple people on the bike that were in my age group. I had been hoping to do the bike in under 1:10, but with the wind and the course I fell short, but still held 32k/hr overall. My Garmin however was still stuck in swim mode so I have no data, and more importantly had no data during the ride to tell me who fast I was going. Sometimes it's good to race without metrics, but it can be frustrating as well. I just pushed as hard as I could though. By the end of the second lap the rain had started to fall lightly and I was glad to be getting off. I pushed as hard as I could and was really feeling my right hip by the end of the course, I think because of the bike position. 40k- 1:15:02 (32k/hr)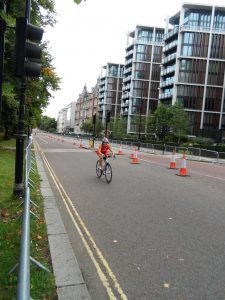 T2- Another epic run it seemed with the bike back to the racks. I quickly transitioned to run shoes and yes socks and was off. Remarkably T2 was also 3:41.
Run-3 loops through Hyde Park.
I was able to see Nate and the others multiple times along the course which helped my spirits. Still no data and with no run markers and a 3.3k loops the math was impossible. I had little clue of how fast I was running. My left knee was acting up and felt like it would buckle at any time and my right hip was screaming at me and felt like the glute wasn't firing. There was a small "hill" in the middle of the flat course that felt epic but really wasn't. Made it hard to stay in a goo rhythm.
Each loop takes your through the finishing area which is exciting and energizing and at the same time you know you still have more to run while others are finishing. At the end of the second loop I tried to pick up the pace and tough it out for the remaining 3.3k and finish strong. I'm happy I managed to pick up the pace because there was another Canadian in my age group that I managed to hold off by a couple seconds.
Lap 1- 5:08 min/k, Lap 2 -5:11 min/k, Lap 3 – 4:41 min/k. Side note: I feel that if I had had my watch working properly, I could have pushed through the physical pain knowing that I was capable of running harder on those first 2 laps. Still given that I'd run maybe 10 times in the past 6-7 months I can't be anything but satisfied 00:49:55. (4:59 min/k)
Total time: 2:26:19
501/784 Women
79/102 35-39 Women
5/10 Canadian 35-39 women