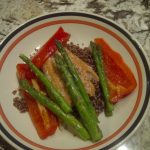 What I love about quinoa is how quick it cooks and how nutritious it is.  While brown or wild rice takes 50-60 mins to cook, quinoa is ready in under 15 minutes.
This meal is a staple in my diet.  Feel free to sub in your favourite veggies, greens and protein source.
Ingredients:
2-4 peices of 3oz wild Pacific salmon
1 cup quinoa
1 bunch asparagus
1-2 red peppers
1 lemon,
salt & pepper to taste
1 tsp olive oil
Method:
Bring 2 cups of water to a boil, and add 1 cup quinoa. Stir and cover, reduce heat to low-medium and let simmer for 10 minutes.  Set aside off heating source and let sit for 5 more minutes.
Salmon can be grilled in about 10 minutes.  You can also bake it or broil it in about 20 minutes.  Season with a little lemon juice and a dash of salt and pepper.   Add the red peppers and asparagus to any method of cooking.   Plate and drizzle with a little olive oil.