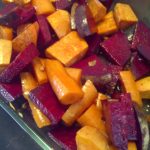 In the summer I can't get enough fresh grated beets and carrot salad, but in the winter roasted root veggies provide the warmth and comfort we want in the colder months. The good thing is that these root veggies keep a long time so we can enjoy Canadian produce in the winter!  So enjoy this lovely side with grilled fish or roasted chicken or even some spicy lentils and chana beans!  Call me lazy, but I don't peel my root veggies whenever possible because the peel has so much nutrition. Just give em a good scrub and if possible, buy organic!
Ingredients:
2 large beets, chopped into chunks
2 large carrots, chopped into chuncks
1 peeled yam, cubed
Balsamic dressing:
2 tbsp olive oil or coconut oil
3 tbsp balsamic vinegar
1 tsp sea salt
1″ fresh grated ginger
Method:
Toss all root veggies together with Balsamic Ginger dressing and roast in over at 400F for 55-65 minutes.  Enjoy!