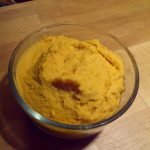 Take typical to intense by adding sweet potato to your hummus.  This could be eaten as a side dish, or as a dip or spread.
Follow the basic hummus recipe as your base, and add some cooked sweet potato.
Ingredients:
1 large sweet potato
1 tsp cayenne pepper
Ingredients for Basic Hummus
1 can Organic Chickpeas, drained and rinsed well
1 lemon, juiced
1/4 cup tahini
2 tbsp olive oil
1 clove garlic, pressed
sea salt and ground pepper to taste.
Directions
Bring water in a pot to a boil and add peeled and chopped sweet potato.  Bring back to a boil and reduce and simmer, covered for about 10-12 minutes, or until tender.  Add to food processor with other hummus ingredients and puree until smooth.   Serve with veggies or Mary's Wheat Free Crackers.