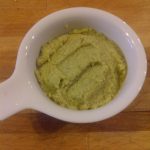 Looking for a vegetarian way to get some protein in?  Then try this Ginger Split Pea and Broccoli soup.  I initially wanted to use Kale but I didn't have any, so I pulled from the ingredients in my crisper to make this tasty but green dish.
Ingredients
1 cup split peas
1 stalk of broccoli
1 med Spanish onion, chopped
3-4 celery stalks, chopped
1 tbsp olive oil
1 tbsp ginger root, chopped
1 clove garlic, pressed
Directions
In a large pot add olive oil and onions.  Sautee on medium heat until translucent.  Add celery, ginger and garlic and cook for another minute.  Add 3 cups of water and 1 cup split peas.  Bring to boil and then simmer with the top off for 20 minutes.  Add chopped broccoli, 15 mins after the split peas and continue to cook for another 5 minutes.  Add a pinch of sea salt and black pepper for taste.  Toss everything into a food processor or blender, and puree until desired consistency is reached.  Enjoy!