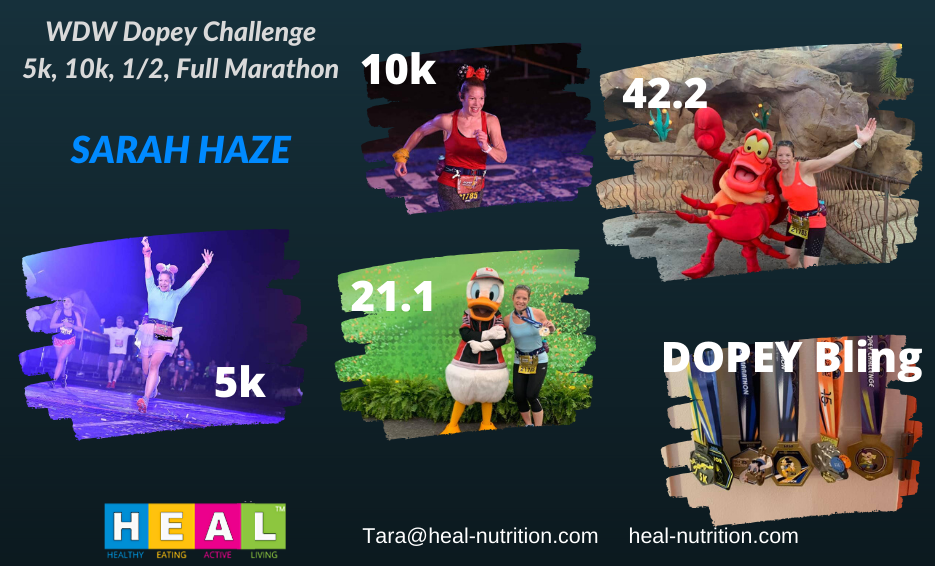 When I met Sarah she was training with an audacious goal of completing the Disney Dopey Challenge.  That's a 5k, 10k, 1/2 and full marathon over 4 days.  And if that wasn't enough she tossed in another 5k 2 days after the marathon as part of a cruise challenge. I loved Sarah's tenacity and spirit to accomplish this massive goal, but she was dealing with injury at the time and before we really started training hard for the marathon I wanted to ensure her calf injury was fully healed.  With a little give and take in scheduling and telling go of the "more is better" mentality Sarah recovered from her injury and successfully completed her Disney "mission".
Well done Sarah on all your accomplishments!
"My experience has been amazing! I came to HEAL – Tara first as a quick consult on nutrition and with a goal to improve my running along my fitness journey of losing 125+ pounds. Tara gave me some tips for eating/running plan. A couple months later I after a calf injury and a goal of completing the Disney Dopey 2020 Challenge to mark turning 40, I came back to Tara to ensure I could safely reach my goal. It was a tough and amazing journey with just the right amount of guidance. I feel with the injury and my journey of weight loss it was just as much physical as it was mental, perhaps more metal to push through the pain and even more so the lows of not being able to run when race time was fast approaching.

It was HEAL that got me through it and made me realize how important it is to listen to my body and that rest days are good and needed. At first I didn't think I would like losing the power of my schedule with 2 young kids, a demanding job and a commute etc. but planned workouts for me were so much less stress and loved the accountability and check ins. With family support and Tara's I fought through the injuries, the crazy winter weather, the early mornings, work demands and at the beginning of January I got on that plane ready, so ready! Then I killed the Dopey and Castaway Cay Challenges and absolutely enjoyed every moment of it!!! Back to back races ending in my first marathon in extreme heat warnings and it was fabulous! Wouldn't have changed one thing and quickly realized it not about the finish line its about the start line(s) and all it takes to get to race days! Then it's time to have fun!

I love the accountability and knowing that I am not over-training, as well as, the fact I always have someone to ask questions to. Having personalized training set to me has helped me improved and given how busy life is being able to put it in auto pilot and focus on what is set out to me is great!"

– Sarah Haze, Oshawa
Want to have your own Success Story? HEAL is here to help you reach your goals! Want to get started? Contact us today!