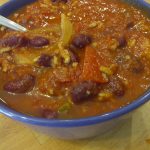 Red Black & Gold Chili
2014-01-07 06:28:35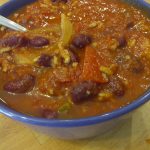 Serves 4
A great way to warm up on a cold day!
1 lb organic ground turkey
1 can organic kidney beans
1 can organic black beans
1 can organic plum tomatoes, or 3 cups of whole plum tomatoes, peeled & lightly crushed
1 red pepper, chopped
1 yellow pepper, chopped
1 Spanish Onion, chopped
1-2 tbsp coconut oil
1 tbsp cumin & ground coriander
1 tsp chil powder
1 tbsp garlic powder
1 tsp cacao powder
1 tsp chili flakes
1 tsp sea salt
1 tsp ground black pepper
In a large pot stove top, heat olive oil.
Add ground cumin and coriander and lightly toast on medium heat.
Add chopped onions and sautee for 2-3 minutes.
Add in tomatoes, rinsed kidney and black beans and remaining vegetables and spices.
In a separate pan, fully cook ground turkey with a little bit of water.
Drain when fully cooked and add to chili mixture.
Bring chili to a boil then reduce and let simmer for 20 minutes or until ready to eat.
Serve & enjoy!
Healthy Eating Active Living™ http://www.heal-nutrition.com/