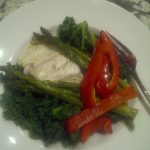 Fresh fish and seasonal veggies are a great choice for a quick and nutritious meal.
Ingredients:
2 portions of cod
1 bunch collard greens (or kale)
Seasonal veggies as desired, asparagus and red peppers are showcased here.
1 lime juiced
1 tsp chili flakes
salt and pepper to taste
Using parchment paper, place all ingredients in a pouch.  Place in a pre-heated oven at 350 F, and bake for 20 minutes.