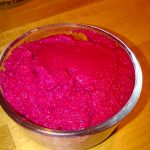 Make a statement with this bold hummus. Bored of beige? Why not add some beets to your hummus to improve the colour and the nutrition. Beets offer a variety of nutrients including: Vitamin A, Folate, Calcium, Magnesium, Potassium, Iron and Manganese. Beets are said to be good for the blood as well and provide nitrites which can help with oxygen uptake during exercise.
Combine beets to the basic hummus recipe for this interesting and intense hummus.
Ingredients
2-3 beets, peeled and cut into chucks.
Ingredients for Basic Hummus
1 can Organic Chickpeas, drained and rinsed well
1 lemon, juiced
1/4 cup tahini
2 tbsp olive oil
1 clove garlic, pressed
sea salt and ground pepper to taste.
Directions
Cook beets in boiling water for 10-12 minutes or until tender.
Using a food processor, combine all ingredients and puree for about 1 minute. Add 1/4 cup of beet water to thin if necessary and puree a bit longer. Serve with cut vegetables or Mary's Wheat Free Crackers.