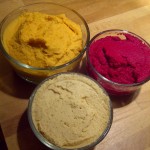 Everyone loves a healthy snack. Hummus is quick and easy to make and can be used as a veggie dip or spread. Bored of your typical hummus? Why not try spicy sweet potato hummus, or vibrant beet hummus. Both recipes are delicious and nutritious and will help you with your healthy eating goals!
Ingredients for Basic Hummus
1 can Organic Chickpeas, drained and rinsed well
1 lemon, juiced
1/4 cup tahini
2 tbsp olive oil
1 clove garlic, pressed
sea salt and ground pepper to taste.
Directions
Using a food processor, combine all ingredients and puree for about 1 minute. Add 1/4 water to thin if necessary and puree a bit longer. Serve with cut vegetables or Mary's Wheat Free Crackers.