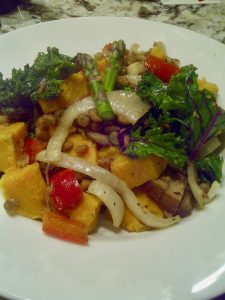 This vegetarian dish is hearty enough to be used as a main course or as a side dish. Packed full of protein, carbohydrates and loaded up with lots of green veggies, this dish can be served hot or cold and will help keep you nourished!
Ingredients:
1/2 butternut squash- cubed
1 sweet onion
1 bunch red kale
1 red pepper- diced
2 portobello mushrooms, sliced
1/2 bunch of asparagus
2 cups cooked lentils
1 tsp all-spice
1 tsp crushed chili's
1 tsp sea salt
1 tsp ground black pepper
2 cloves pressed garlic
1 tsp ground cumin & Coriander
1 tsp turmeric
1.5 tbsp coconut oil
Method:
Cook 1 cup lentils for 20 mins in sauce pan until tender. Peel, cut and cube squash and boil for 10 minutes or until soft.
In skillet heat 1.5 tbsp coconut oil. Add pressed garlic, cumin, coriander, turmeric. Add chopped onions and mushrooms. Lightly sauté for 2-3 minutes. Add peppers and asparagus and cover to lightly steam. Add cooked lentils and squash and toss in remaining herbs and spices. Cook for another 2-3 minutes and then serve and enjoy!