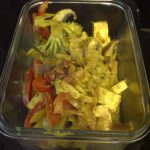 This is a quick and healthy, one pot meal that will be on your table in less than 15 minutes.  If you don't like tofu, you can easily sub in chicken, pork, beef or fish.
Ingredients:
1-2 tbsp olive oil or coconut oil
2 cloves garlic, pressed
1 tsp hot sauce
1 tsp chili peppers
1 tsp sea salt
1 tbsp turmeric
1 package, plain firm tofu, small slices
1 red pepper, sliced
2 cups broccoli
1 onion, sliced
2 portabello mushrooms, sliced
1 cup red potatoes, slivered
2 oz goat cheese
1 lemon juiced
Method
In pan, heat oil, add garlic and turmeric and stir.  Add lemon juice, tofu and onions.  Allow to cook for a few minutes then add for the remainder of vegetables, spices, and goat cheese and toss all together.  Cover pan for 5 minutes to steam the broccoli and other veggies.
Makes 4 portions.