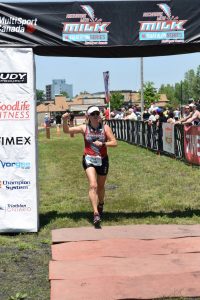 The details:
Swim- 37:29 (1:53 min/100)
Bike- 2:44:38 (32.8 km/hr)
Run- 1:57:34 (5:35 min/km)
T1-0:54
T2-1:29
Total: 5:23:51 – 4th place in AG, 23 female overall
I was ready! Mentally I was ready for this half iron distance triathlon in Welland. Physically I felt good, but a nagging toe injury had me worried for the bike. But I knew it was just pain and I can push through that discomfort.
It was a great day for a race. Not too hot and not too windy. Water was a decent temperature for a long race, some might have called it cold. I prepared ahead of time a great lunch and dinner of turkey, green veggies and yams and got a great night sleep. We also carted with us our Vitamix and coffee maker for the race morning smoothie. (we've brought a slow cooker with us before to Niagara falls, so why not a blender!) This was my 6th half distance triathlon, anf first non-Ironman brand. I had heard the swim was fast because of the current and with a flat bike and run I was excited to see how fast I could go.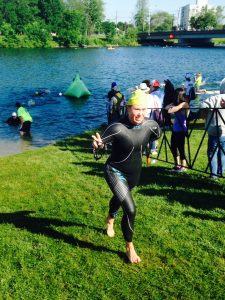 Swim– went alright. The sun was bright and I had a hard time sighting as I was a bit blinded. The bouy's and the wrist bands were the same colour so I think I might have sighted my arm or others a few times. Still I think I swam a mostly straight line. I won't lie, I haven't been swimming much this year, though the past few weeks I've been consistent with 2 swims per week and a couple of longer efforts. Had a couple Pb's in the pool but those didn't materialize into the results I would have liked for this race. Still if I compare it to last year, I was more or less the same speed (1:51 min/100m) when you normalize the distance.
T1- 3rd fastest women's overall T1 time! I think it's cause I took my wetsuit off immediately after getting out of the water! Hey you can gain time in many places in a race this long
Bike-I started off relaxed for the first 5 mins to let my legs come back to me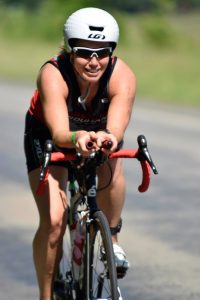 and le my HR drop a bit. After that it was go time. I tried to attack the course like a 30-40k bike and I paid the price. Somewhere around 30k my adductors started to ache something fierce and my saddle was no longer comfortable. I tried to shift around to find a more comfortable position, but I could not remain in aero much more. I don't train much in aero because of some back and neck problems and usually I can get away with it in a short race, but between the heavy feeling aero helmet and the flat course my body was not happy. Speeds dropped dramatically and for awhile I was in no-mans land it seemed with few people around. Admittedly, my head space wasn't great with all the pain and with only a couple people passing me I don't think I pushed that hard. Around the 50k mark at a turn I caught a glimpse of some people and thought I better snap back into this and focus. I also hadn't looked at the route map closely enough to know that this wasn't an out an back (mistake on my part). I also was having a hard time digesting my nutrition while spending so much time in aero working at max capacity. Spent more time out of aero then I would have liked for the last 60k of the bike but my speeds were higher when I could sit back and use my glutes and quads more. Was hoping to ride a 2:40, and I was within target at 2:44. My toe was also a problem for the last 40k and as I hoped off the bike hobbling in to Transition I thought my run would be doomed.
T2– still a pretty fast Tz especially because I had to stop to put on a toe spacer and socks, and I wasn't running well.
Run– Re-capped to Nate as I was starting the run all my aliments and how bad I was feeling (mini pity party going on). He just said go have a great run, so I tried to put one foot in front of the other and run. Kept an eye on my watch to not push too hard for the first 5k (5:30-5:45s) until the legs sort them selves out and after about 4k my toe stopped hurting so I was able to focus on other things. It was hot, but a lot of the run course was shaded so that helped enormously. The mile markers were off and it seemed to take forever to reach the first turn around. Was great to see so many TTCers and other friends out on the course though. I think that sort of made the time go faster. Plus you had the impression that people were catching you and that always makes me run a bit faster. My gut wasn't happy and my neck/shoulder was cramping a bit (from the aero position I think), but otherwise the run was pretty solid. My goal was 1:50 which I came in slower then by 7 minutes, but this was the first time breaking 2 hours in a half distance triathlon so I'm pretty pleased.
I was glad to be done! The extra 750m that we had to run to the finish line were not pleasant, and I wonder if we knew that the "official" line was where it was if I could have picked up the pace sooner. I was in a lot of pain afterwards (adductors, oblique's, neck, ribs, feet, etc) and it's taken about 24 hours to feel good about this race and focus on all the positives. I PB'd by 18 minutes (20 if you count the fact that the swim is longer than your standard 70.3), PB in the bike and the run but 8 and 9 mins respectively. Worked as hard as I possibly could have at the time and drove the body to exhaustion. And I was able to share the experience with so many people on such a great day.
Time to recover and spend a couple weeks prepping for the TTF and then let marathon training take precedence after that.