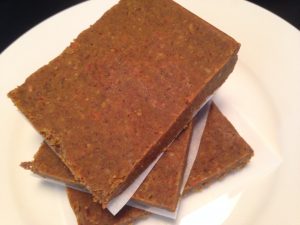 Breakfast Bar
2014-06-05 05:27:30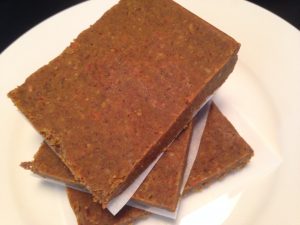 A no sugar, high energy nutrient dense bar to get you started in the morning.
Ingredients
1 cup almonds, raw
1/4 cup raw sunflower seeds
1/4 cup flax seeds
1/4 cup hemp hearts
1/4 cup macadamia nuts, raw
1 tbsp apple cider vinegar
1" raw ginger
1/4 cup cacao nibs
1/4 cup coconut oil
1/4 cup raw coconut flakes
1 tbsp turmeric
1/4 cup gogi berries
1 tsp cinnamon
1 tsp sea salt
Optional 1 scoop of protein powder such as Progressive Vegessential or VegaOne or VegaProteins
Instructions
Put all ingredients in a food processor for 2-4 minutes until everything is well combined.
Line a small baking pan with parchment paper and flatten "dough" mixture into pan
Chill in refrigerator for an hour or longer, cut into single servings
Keep in refrigerator until consuming as the coconut oil will melt at room temperature
Notes
You can substitute your own ingredients for a personalized flavour.
Makes 8 pieces that are
326 cal, 29g fat, 12g carb, 9g protein, 7g fibre
Healthy Eating Active Living™ http://www.heal-nutrition.com/